for this collection, LV Menswear director Paul Helbers has taken cues from the exuberant LV Women's S/S 2009 look of a 1940's
jeune fille Parisienne
with an African twist. he describes the new collection as "the traveling wardrobe of an African king". Mr Helbers has a penchant for mixing disparate ideas:

50's Cocktail Party in the Moon

or

Hawaiian Victoriana

for example, but not prone to literal interpretations. so instead of going for an outright ethnic look, he opted for a more paired back collection of wardrobe staples that amalgamated high tech and high luxe. a formula that seems to prove successful season after season. thus guaranteeing the Vuitton man wardrobe longevity.

but we all know that in a Louis Vuitton runway presentation, the clothes come secondary to the real stars of the show: the bags.

for Fall'09, we shall see a number of past collections revisited and reinterpreted. first up would be bags and luggages in the classic Monogram Canvas trimmed with black leather: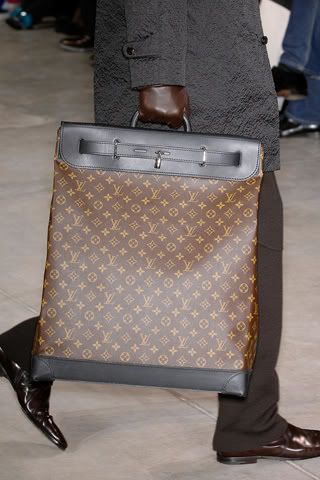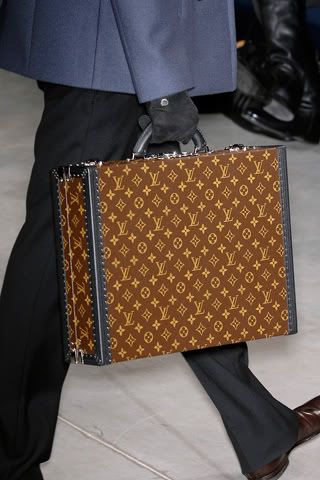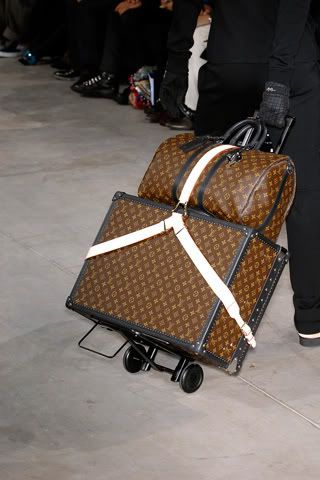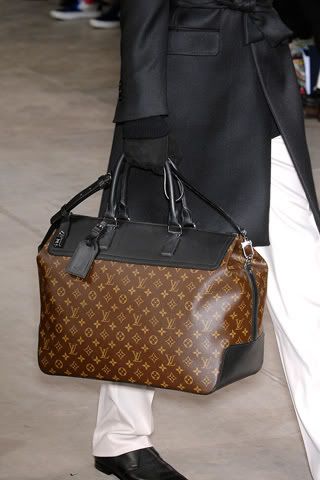 this unquestionably masculine combination was first seen on the F/W 2004 runway: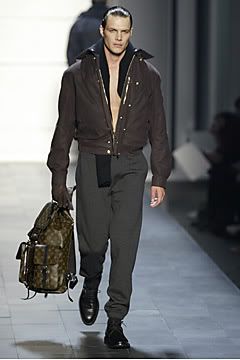 for F/W2009, they have also made a more special version in honeycomb
matelassé
: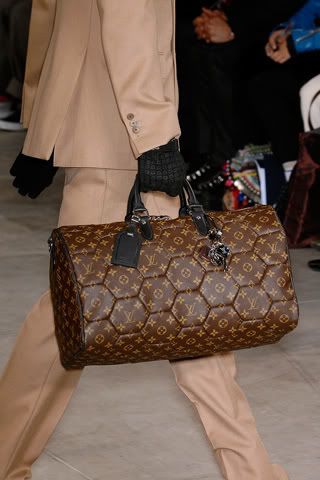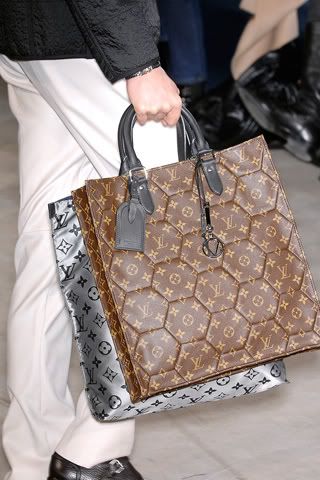 which instantly reminds me of the "Rebonds" soccer balls they made back in 1999 in support of Unicef: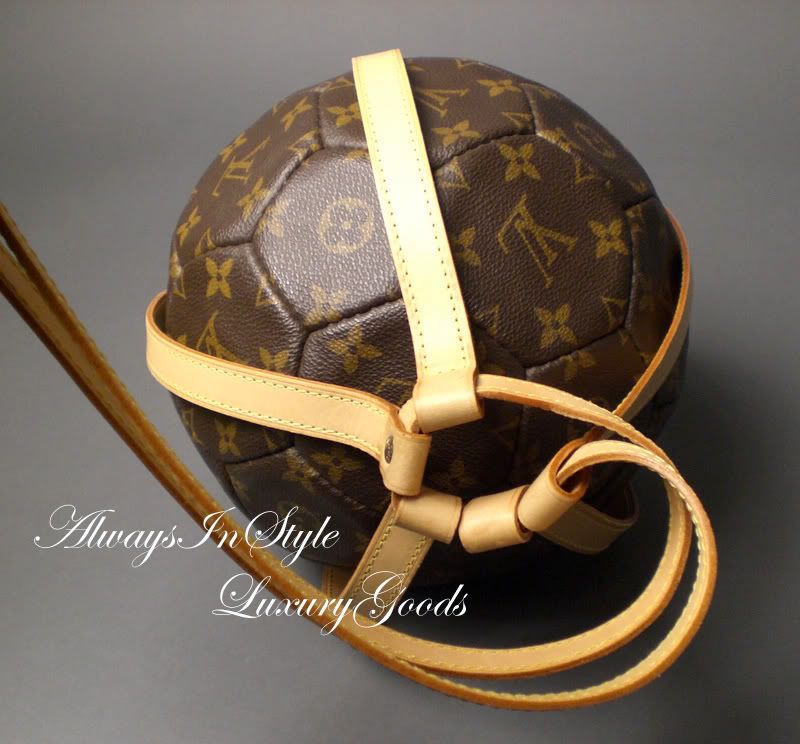 the hugely successful
Damier Graphite Collection from F/W2008
makes a second appearance in the form of large briefcase-like holdalls: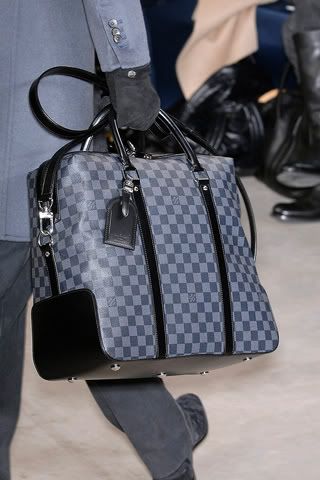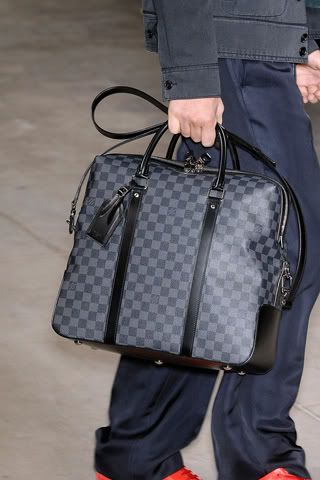 which to me looks like a slight improvement of the
Jørn
.


probably the priciest and most desirable of all the bags seen on this runway would be these Monogram embossed leather bags in sombre black: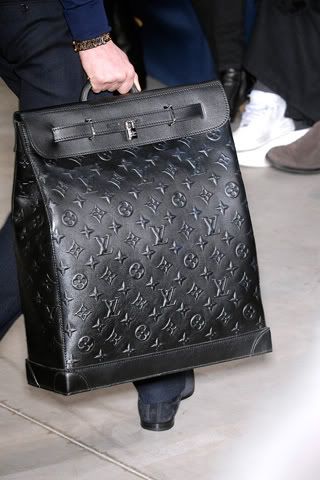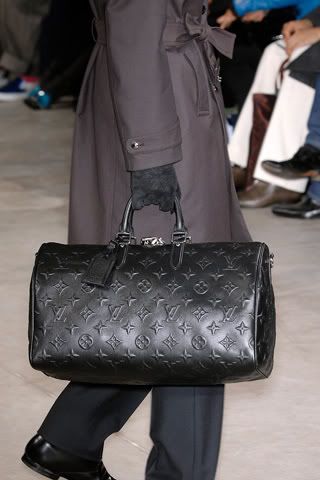 that Speedy - to me its a Speedy because the straps attaching the handles to the body do not go right around the bag like you see in a Keepall - looks set to be the runaway hit of the entire show. but this reversed (bumps instead of crevices) monogram effect first appeared in the women's Pre Fall 2007 Monogram Bronze Collection: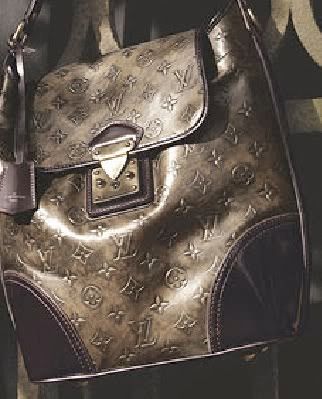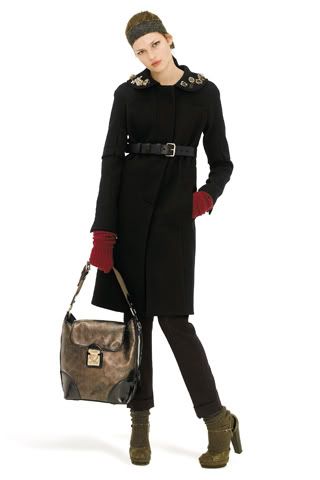 i was a bit sad that they didn't expand this line since i really like this leather effect. but now im glad it has reincarnated in black for the boys.

they have also included a couple of newbies. one is a line of what seems to be plain black whipcord material (similar to the black fabric used in some
Taiga bags
) with black matte calfskin trim: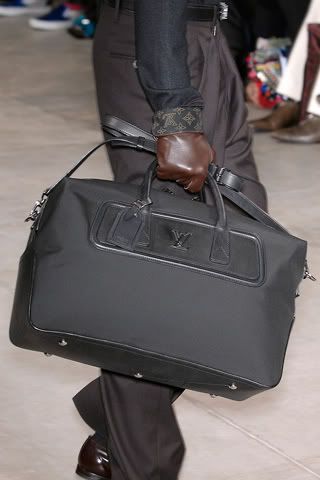 quite minimalist and understated, which reminds me of Prada's signature nylon bags or pre-logomania Tom Ford for Gucci.

but the bags that will definitely polarize LV fans would be these: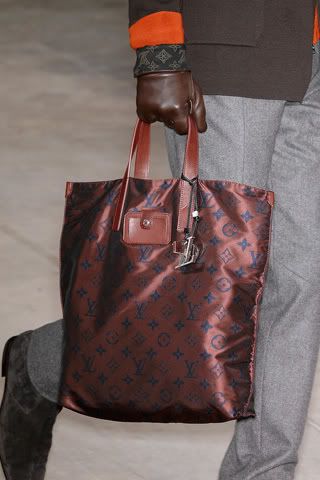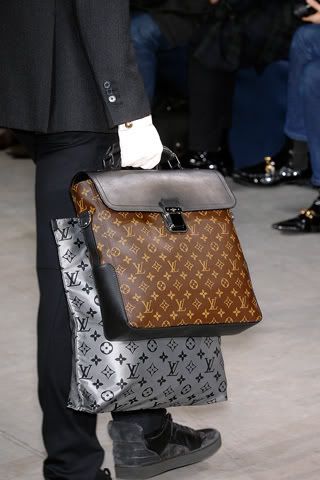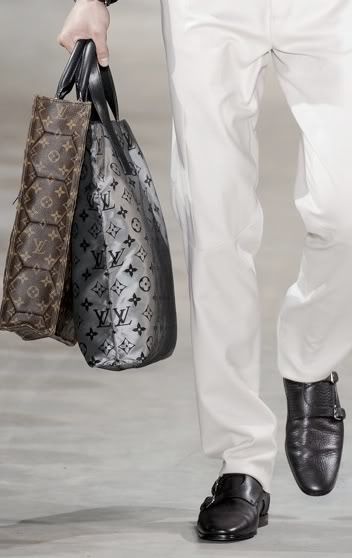 looks like they're made from some microfibre material with leather trims. the blue and the burgundy are quite alright, but not too sure about the silver. i like the size, function and simplicity of the shape. im definitely intrigued.


and to finish it up, here are my top 3 personal picks: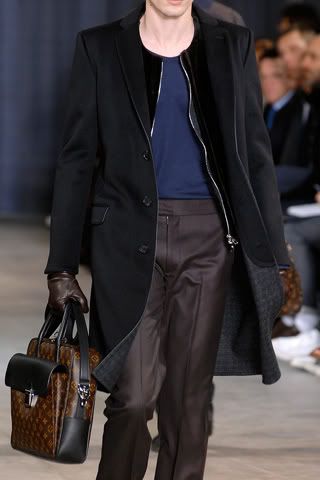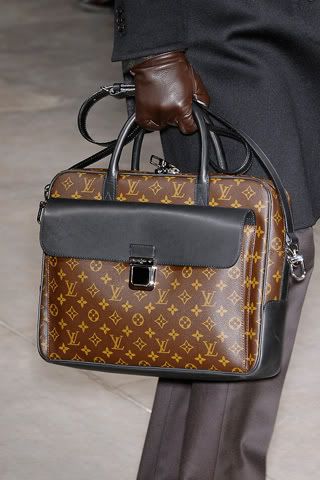 a Monogram Canvas bag with black leather trim has always been a dream of mine to have. i really think the sharp contrast works for men especially. this computer bag seems just perfect for my current needs.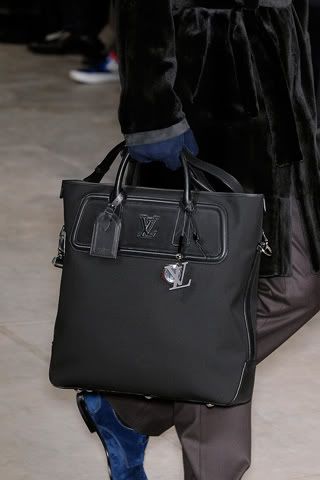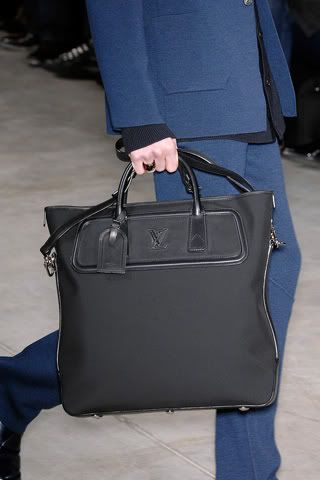 similar to the

Damier Graphite Tadao (Feature Bag #18)

, these look like great unstructured totes that seem relatively lightweight and fuss-free.


but the one bag that stood out among all of them to me is this: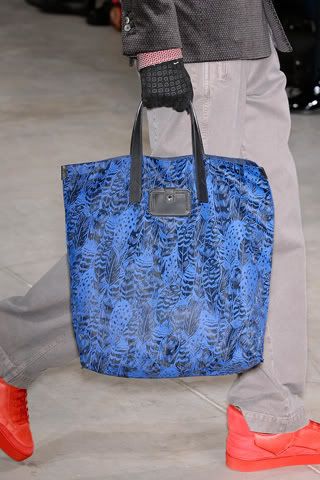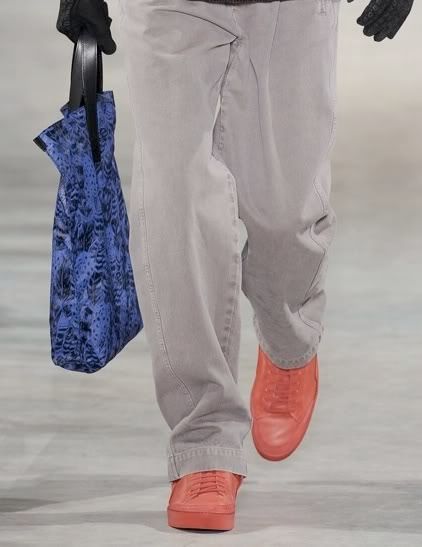 its the type of bag you either love or hate. but the feather print - which is quite unlike LV - really appeals to me. through the years i have included a few bags with atypically LV patterns such as the

Ouvea (feature bag #3)

,

Canwan (feature bag #19)

, toile chemise (feature bag #8),

Vail Blanket (feature bag #6)

and

Monogramouflage (feature bag #15)

. these are the sort of items that do not make a comebck. a one-time only deal. which is what attracts me to the feathers as well. plus i love the surprise people get when they later realize the bag im carrying is a Vuitton.


Fall-Winter 2009 proves to be a VERY promising season. im genuinely excited. what's your pick?


images:
Louis Vuitton
,
men.style.com
,
always in style
.