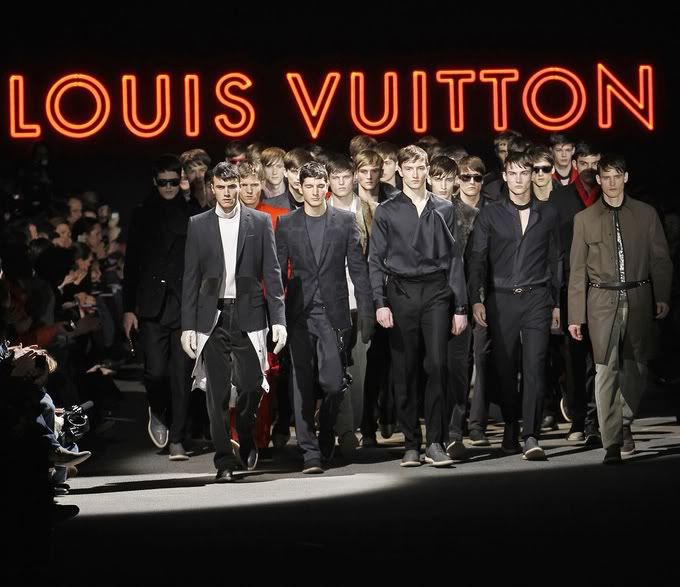 Paul Helbers is at it again; combining totally disparate subjects into one seemingly cohesive thought. the
Louis Vuitton Fall/Winter 2011-2012 menswear collection
is said to be inspired by Amish austerity and the mind-fuckingly surreal films of David Lynch. OK.... @_@ though i do love a number of looks from the show, i'll leave that aspect to my fellow bloggers to pull apart and analyze. im only here to oogle the leathergoods.

though to some gents of a certain age this never really went away, for the rest of us its seems that the time of men's wrist clutch is nigh. the show featured a number of these in various materials: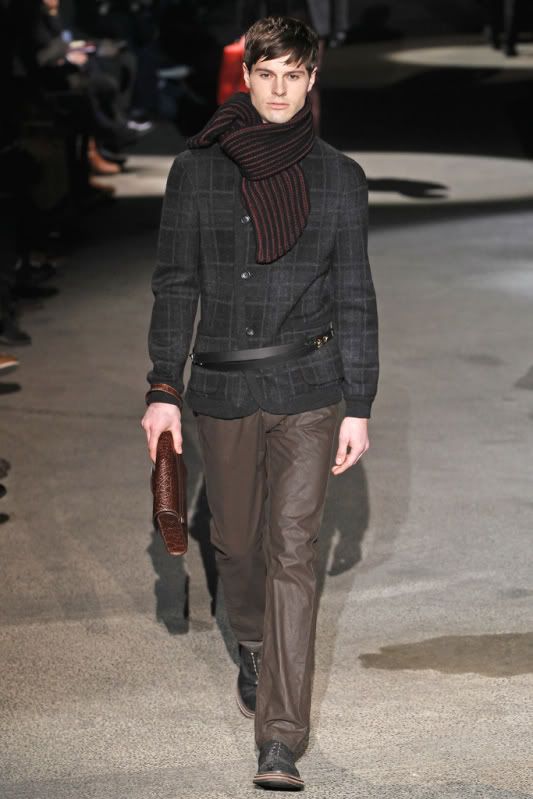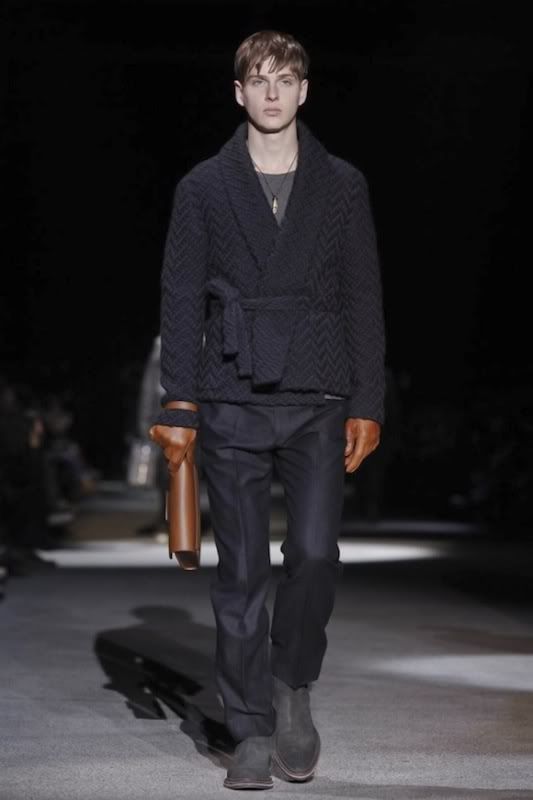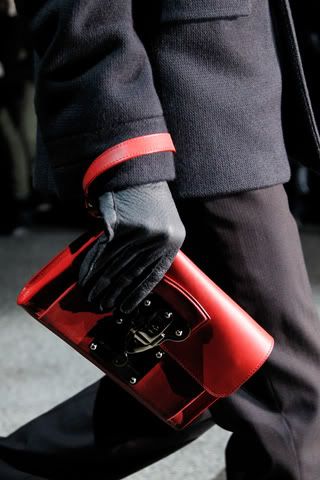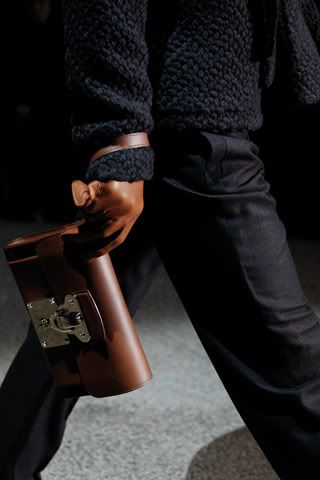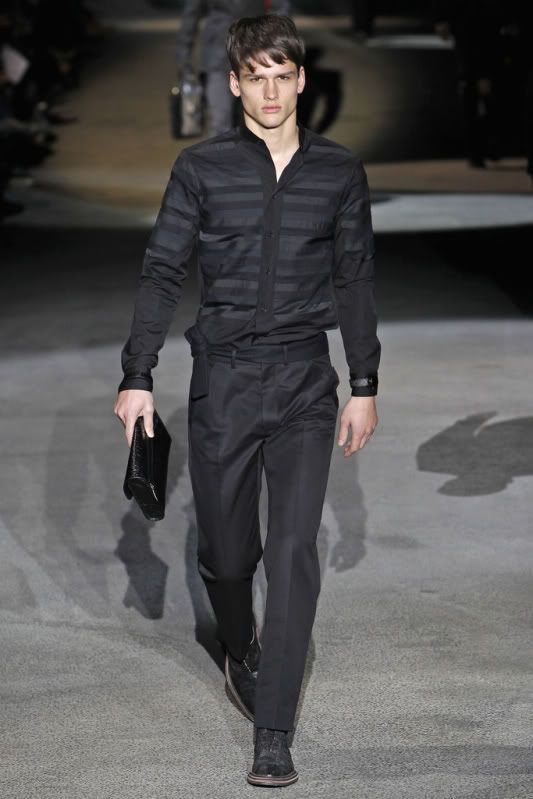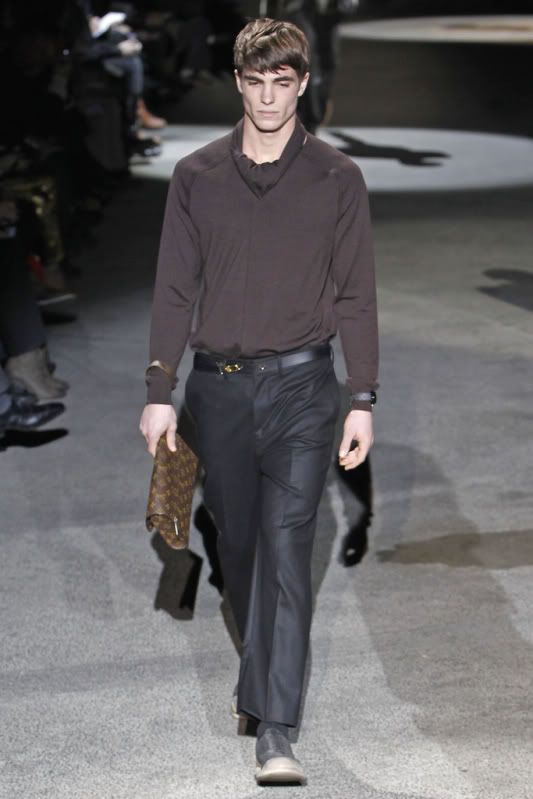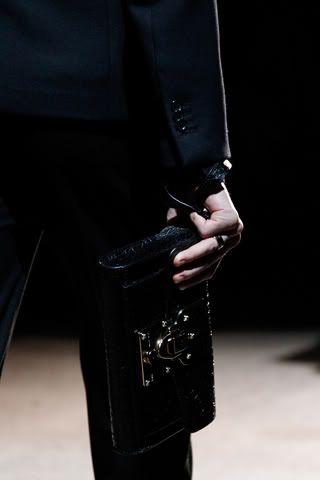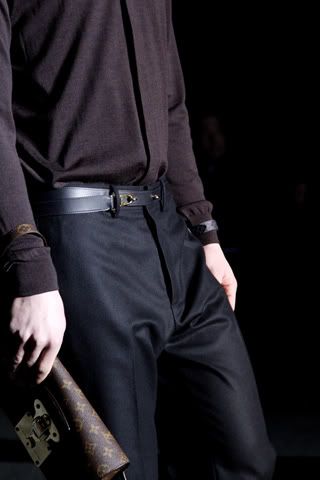 im actually considering the one on the top right in what looks like Nomade leather or even the one in Monogram canvas.
they are just the right size to contain my most basic daily needs.
i like that they used the full-sized latches normally used on their trunks for these.

still afraid of the little clutch? there are some portfolios on offer too: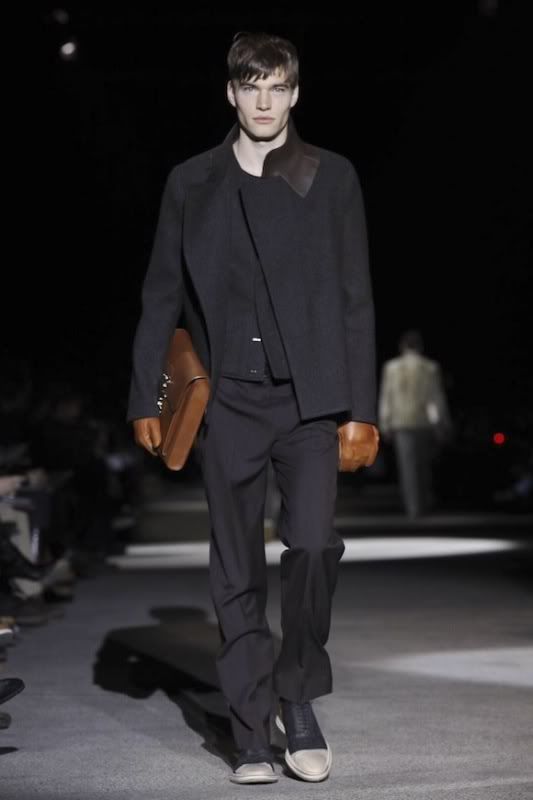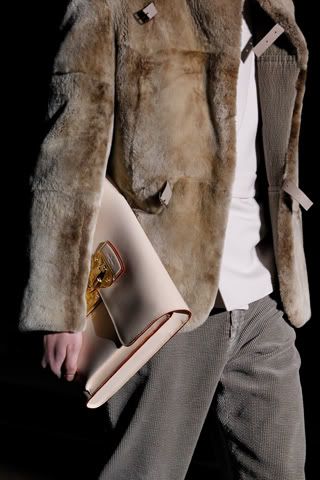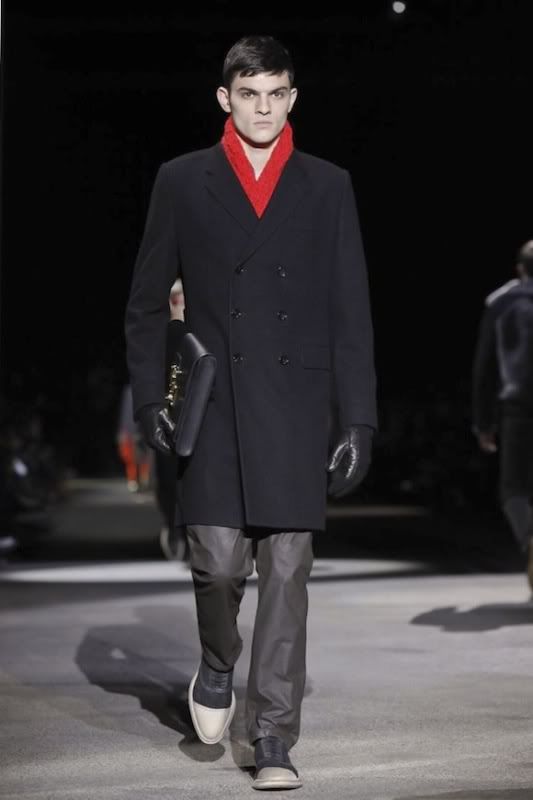 though smart & even more useful since these could fit that indispensable iPad or MBA, i wish these had handles or a wrist loop too. portfolios invariably end up sandwiched between one's knees in order to have both hands free. not a good look. nor a secure one either.

and for someone who is a little more adventurous, how about a tiny belt pouch?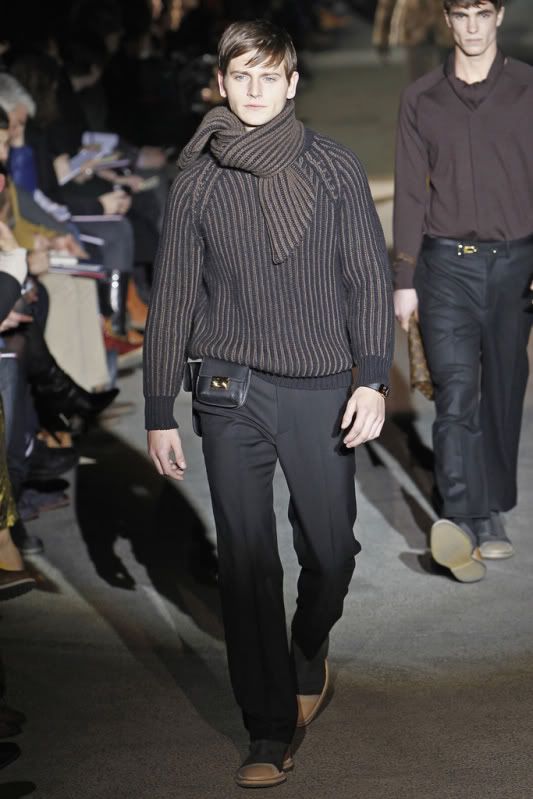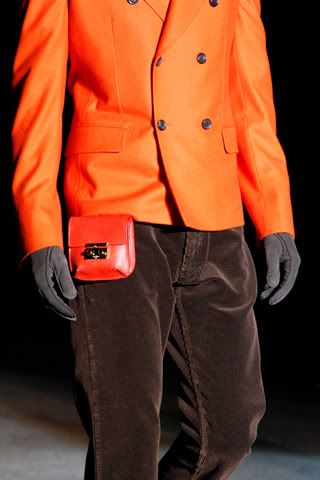 first proposed during the

Spring/Summer 2010 presentation

, i think it might take a couple more seasons of coaxing for men to latch on. after trying on the

Taiga Pochette Ridge

last year, i still have my reservations about belt packs.

from a company known for travel luggages, there will always be some on offer too. slated for release by the third quarter of this year, Louis Vuitton is introducing a brand new men's bags & accessory line called
Damier Infini
: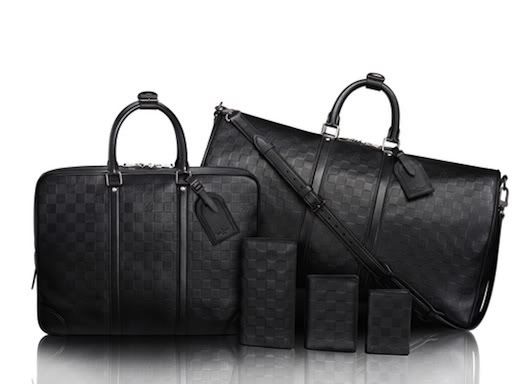 this collection of fine calfskin leather goods embossed with the company's Damier pattern (only the second time since Damier Glacé from Spring/Summer 2001) made its debut tonight: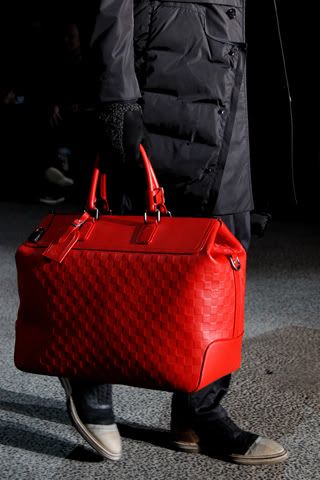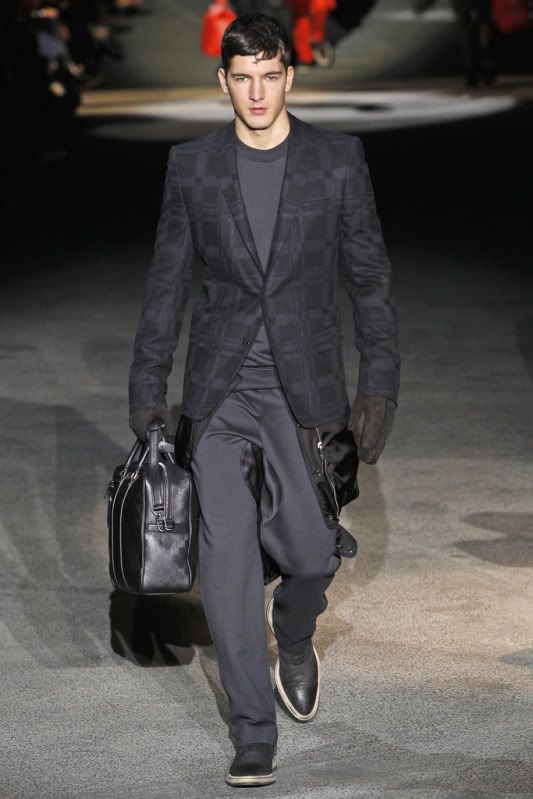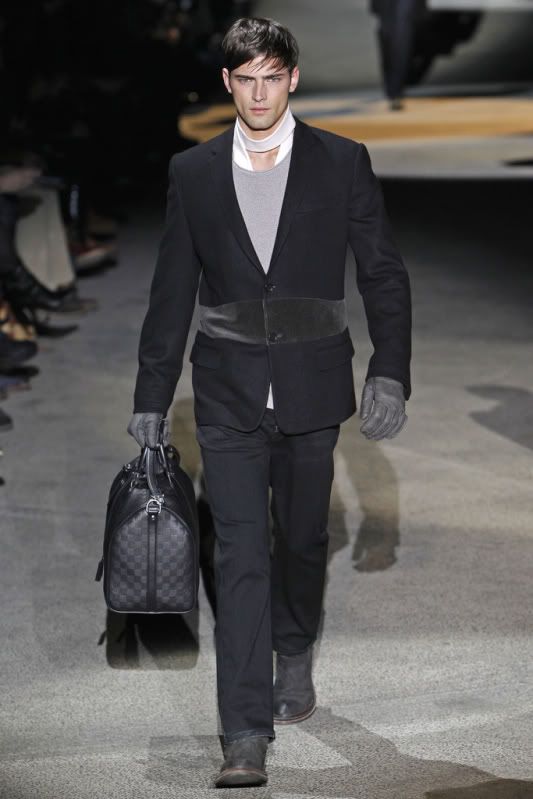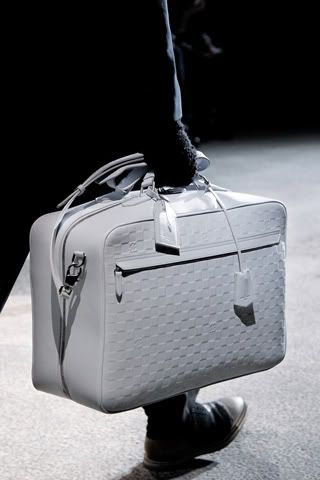 a most promising collection, in that they could introduce new colours from time to time. it could possibly be like the men's counterpart to the

Monogram Empreinte

collection.

i really love that gorgeous tomato red accent colour seen throughout the show. it is the perfect counter to the preponderance of
International Klein Blue
seen in a lot of the Milan shows last week. i would really love a Damier Infini compact wallet in this colour: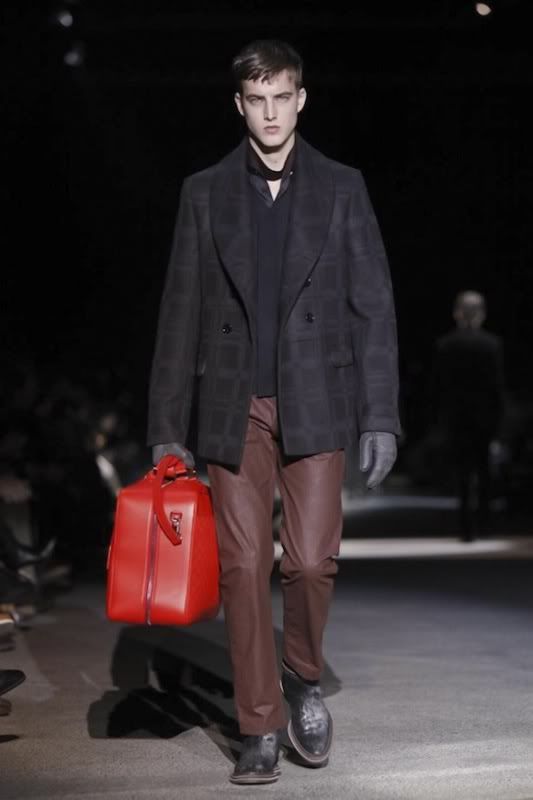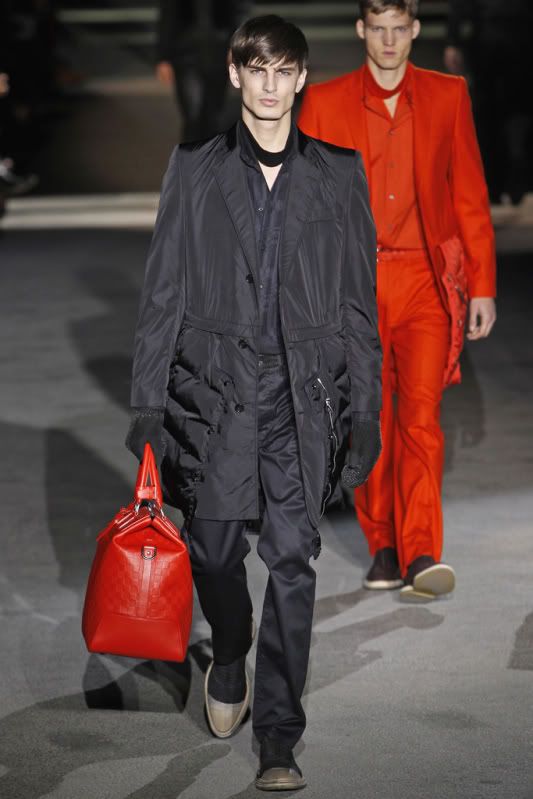 after years of lugging messengers, large shoppers and duffles, im ready for a downsize. bring on the clutches!


photos:

www.gq.com